Summer Bliss and Winter Comfort: Saladacco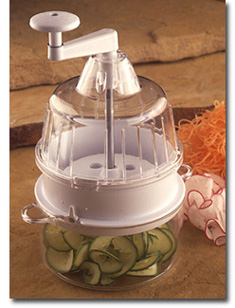 The texture of food is one of the most important aspects to the appeal of food. No matter what type of cuisine you eat, whether or not you are going to enjoy it depends in large part on its mouth-feel. Is there anyone out there who doesn't have a childhood memory of being forced to eat something with a texture that grossed them out? For some it was lima beans or liver while for others it was anything with a surprise in it like chopped nuts or coconut bits. Food texture also plays a large part in creating our 'comfort foods' like the cool creaminess of pudding or the warm softness of mashed potatoes and gravy. And while all good chefs know that texture affects taste; raw food chefs know it best.
Raw food chefs have learned how to puree, whip, blend, cut, julienne, slice, sliver, grate, chop, dice and mince food to acquire the kind of taste in raw food that heat brings to cooked food.
And now, there is a new texture being introduced to raw food lovers around the world and it has instantly become the biggest hit of the season and is destined to be the comfort food of the winter.
Close your eyes and picture this: a mountain of angel hair pasta, tossed in a basil, pine nut and garlic pesto, piled high onto a serving platter. See and smell the beautiful green sauce coating each individual strand with a symphony of flavors: rich, flavorful, soothing and satisfying all at once. And what is that in the very middle of the platter? A magnificent pomodoro sauce-tomatoes, heavy with ripeness, fresh from the vine, diced and allowed to drain for most of the day to intensify that rich tomato taste, and laced with ribbons of fresh green basil. What does it taste like? Mama Leone's, Tony's Villa, Cafe Alfresco, all the memories and tastes of Italian food, but with none of the drawbacks.
How can this be? A genuine pasta experience like this, but still raw, all raw? Here's how it's done: to make this wonderful angel hair pasta, you use a kitchen gadget called a saladacco. (new name: Spiral Slicer)
This particular recipe uses zucchini as the vegetable that you place in the saladacco and turn the handle a few times and ABRACADABRA !you have angel hair pasta made out of zucchini!
Toss it in the Pesto sauce from The Raw Gourmet by Nomi Shannon, then place the Pomodoro sauce (also from The Raw Gourmet) in the center of it and you have a meal just like your momma used to make, if she was Italian and a great cook.
The Spiral Slicer (Saladacco) is also great with yams, sweet potatoes, daikon, parsnip and all the other hard veggies. By the way it has a few other functions that are also great fun like thin slices and a way to cut an endless ribbon of connected slices to make decorative flowers and borders. But the angel hair pasta side of it is so exciting and enticing it is hard to use it for anything else. For another amazing taste treat, try yam angel pasta topped with Indonesian Yum Yum Dressing.
See the recipes for Pesto and Pomodoro so when you receive your Saladacco you will be all set to make the best and healthiest Italian meal you have ever had.
The price of the Saladacco is $29.95 US plus shipping. To proceed to the secure server and order with a credit card, click here. There is a 24 hour automatic toll-free order line also, just call 888-316-4611. To bypass the recorded message, just press the # key and begin to speak. You can also arrange to pay by check.