How to Make Raw Vanilla Almond Milk
Courtesy of Cecilia Benjumea http://www.rawglow.com
Raw Vanilla Almond Milk
1 cup soaked almonds
(Soak in a bowl in the refrigerator overnight and rinse before using)
3 cups water
1 vanilla bean, seeds scooped out
3-5 soft pitted dates (or soak hard dates in water for 1/2 hour) or
other sweetener to taste such as honey or stevia
To make raw almond milk blend the soaked almonds with the water until smooth. Then strain the mixture through a sprout bag, cheesecloth, or strainer into a big bowl. Save the almond pulp in a container and put in the refrigerator for later use.
Put the almond milk back into the blender carafe and blend in the vanilla seeds and dates or other sweetener until smooth. This milk will last in the refrigerator for about 3-5 days. Shake well before using. Variation: Blend in a banana and use a pinch of nutmeg to make a festive rawnog.
Step by Step Instructions on How to Make Raw Almond Milk with Pictures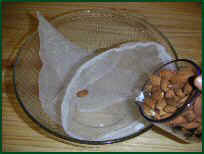 Measure 1 cup almonds and pour into sprout bag.
Close the sprout bag and soak the almonds in water overnight or for at least 6 hrs.
Rinse the soaked almonds with water and put the almonds into the blender with three cups of water.
Blend the almonds and water until smooth.
Pour the puree into the sprout bag over a big bowl.

Squeeze the almond pulp through the sprout bag to extract the milk.


Drink as is, or put the almond milk back into the blender and blend in vanilla, dates, or other sweeteners such as honey or stevia.
Save the almond pulp for cookie or cracker recipes that require almond pulp or almonds.
For More Recipes, Sprout Bags, and Vanilla Beans please go to http://www.rawglow.com