Personal HomePage for Shawn Michael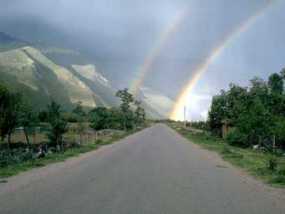 Raw Food Journey
Thought I'd take advantage of this free webpage to create what i've termed a "rawblog" Will be keeping track of what I eat here, as I explore with raw foods. I am not a raw foodist, my girlfriend is. However Her explorations have spurred on my own, so here goes!

The most recent raw food recipe I've tried was:

Berry Truffles inspired by a truffle recipe by the rawfamily.com kids.

4 cups of nuts (any kind) Grind them in the food processor for a long time until fine but not quite powdery. Empty that into a bowl. Load food processor with 1 cup of dried berries. 1/4 cup of lemon juice 1/2 bananna 1/4 teaspoon of sea salt

Put lid on and pulse a bit then put food processor on full until it becomes mush or balls up... Consistancy depends on what kind of fruit you used. Use a spatula to scrape it all out into the bowl with the nuts and taste...make sure there's enough salt. For a basic truffle you get a bit of this mixture and roll it into a tiny ball like the size of a nickle and then roll it in carob powder and then decorate with 1/2 an almond, or a piece of fruit to make it look pretty or roll in shredded coconut, crushed nuts, carob powder etc.
Visit my favorite web site below:
E-mail me at: shawn@3bois.com
Personal Homepage Index | Create your FREE personal homepage