Personal HomePage for Julie GERLAND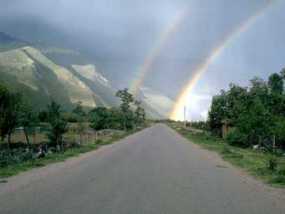 The Light, the colours of the rainbow, living consciousness in all. Shine!
I am a disciple of the Light, learning to live in it's love. I would love to hear from others on this wonderful path of realization that Light is our essence and colour is our abundance. Food, for me is condensed light and sound and should be eaten as a communion. I practice the yoga of nutrition as food is also, "a love letter from God," said my spiritual teacher Omraam Mikhael Aivanhov in his book, The Yoga of Nutrition. I wish everyone the blessings of this communion with life, love and light.
Visit my favorite web site below:
E-mail me at: fjmc@worldnet.fr
Personal Homepage Index | Create your FREE personal homepage