Personal HomePage for Olushka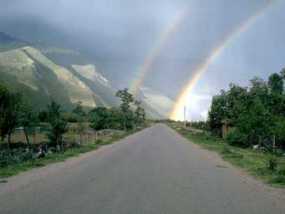 Am I Different?
HELLO!

My name is Ohlushka. I am 41. They say I'm pretty and sexy. I have green eyes, brown-auburn hair. 124lb - 5'6. Gemini.

I am vegetarian, trying to live healthy life. I love natural raw foods, but enjoy cooking and baking different breads as well. I find satisfaction and fun in my daily life experience. I enjoy many things in nature, especially the mountains and the water. I love warm weather and the sun. Curious about animal life. What a joy my cats are!

And I love my two daughters, 13 and 16. They are so different! My twin-sister and mother live in Russia.

I am comfortable to be with, respect others' lifestyle and principles, optimistic, appriciate simple things, but enjoy comfort and beauty as well. I am pretty organized, but can be creative, even tossing my books on the floor occasionally! I am not talkative, prefer to listen to. Independant, considerate, gentle, enjoy being myself. I prefer to follow, not lead, but can have my own opinion. Leadership doesn't deal with narrow-mindedness or rudeness.

I love both outgoing and staying at home. I enjoy gardening for exercise, fresh air, organic fruit and vegetables. Travelling feeds my curiosity, brings excitement and relaxation. It proves that the world is wonderful anywhere. Home is the best place to enjoy reading(in the yard, on the deck - even better!), playing the piano, watching movies, knitting, cooking. Talking, sharing emotions, ideas, problems, plans, dreams with those I love: my soulmate and kids. Our family can be an exciting unit, where we trust each other, giving independance and care at the same time. I was a teacher of English, grades 1-9, in Russia.

I am seeking a man of 48-58 for a longterm relationship or marriage, who is OK with what he is, ready to love and be loved, understanding, independant, with his own interests, financially secure(preferrance, not a must), who can afford to make our home cozy and friendly. Appearance doesn't matter, mutual click at contact does.
Visit my favorite web site below:
E-mail me at: olgagain@yahoo.com
Personal Homepage Index | Create your FREE personal homepage